Despite the ongoing challenges for the music industry, particularly the live sector, there have been some brighter moments over the past few weeks including online festivals, huge recognition for Bandcamp – a platform ensuring artists make more money from their recordings – and a renaissance for radio. We round up all of this plus what we've spotted across the web to keep you entertained and informed.
Festivals Spotlight
Leah: Broadcasting from Newcastle Gateshead, this year's Tusk festival goes digital. Featuring 'adventurous' music of all kinds from punk to experimental electronic and alternative folk, Tusk presents an eclectic range of UK and international performance, film, interviews and archive material. 2020 artists include Welsh violinist and improviser Angharad Davies, minimalist recorder player Laura Cannell and a three-act showcase from the Opal Tapes label, as well as Morocco's Moulay Ahmed Elhassani and poetic, melancholy sound of Minnesota-based musician and disability-advocate Gaelyn Lea. Look out for the British Council and Boiler Room documentary Makina! as part of Tusk's film programme.
Leah: Somerset House Studios shape-shifting series ASSEMBLY returns for a third iteration with the presentation of five newly commissioned sound works over five nights. Loraine James, Kelman Duran, Zadie Xa, Ben Vince and Lafawndah will all be showcasing material developed during a residency at Somerset House Studios.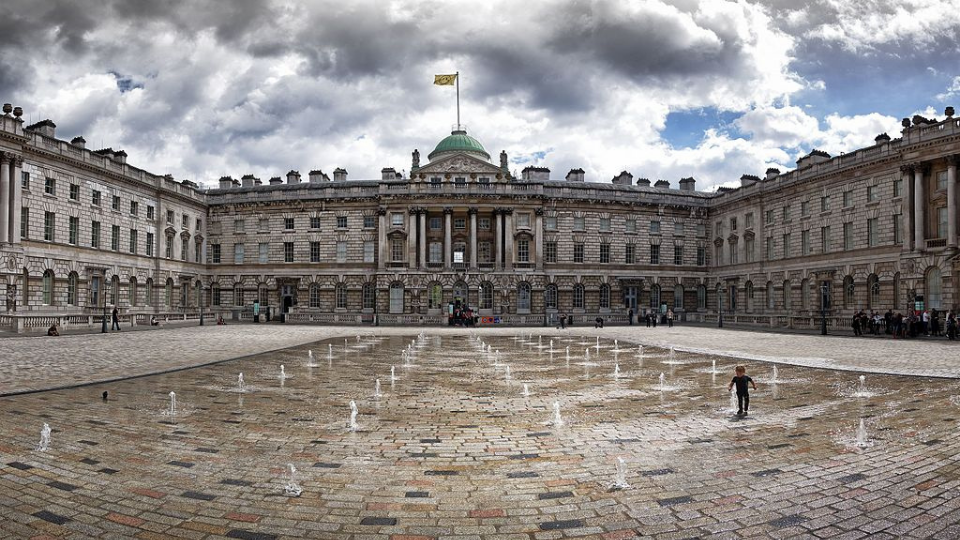 Above: Somerset House in London, physical home of the ASSEMBLY festival. Photo credit: Bjørn Erik Pedersen (CC-BY-SA-4.0)
Music News Spotlight
Radio looks resurgent but Covid continues to restrict what's possible for the live music sector, causing one opera company to think outside the box and beyond the stage. Here are the stories that have caught our attention.
Spotlight on radio
Katie: One of the few music success stories of 2020 has been the resurgence of radio. As a medium, it's been well placed to adapt quickly to Covid. Our own Selector Radio has kept going, as many other shows have, with our host Jamz Supernova recording links from home and interviewing artists online. But why is radio proving so popular? Audiences seem keen to tune in to a familiar voice rather than streaming services alone, particularly during periods of lockdown. I loved journalist and broadcaster Kate Hutchinson's comment about this: 'The combination of live radio's ability to respond to the world in real time and the internet's power to reach an audience all over the planet goes some way in explaining why online radio is enjoying a renaissance.'
And it's not just the professionals, amateur radio has also been a fantastic way of connecting people.
No Signal, the online #blackradio station born out of lockdown, has just won the top award of Skepta's Metallic funding scheme. Find out more about No Signal here.
Spotlight on music and Covid
Stephen: Two contrasting pieces in the Guardian bring home the scale of the challenge to the music sector at the moment and how much has changed in less than a year. In November 2019, it was reported that the British live music sector was worth a whopping £1.1 billion and as much as £5.2 billion for the economy when money spent on food and accommodation around live music was factored in. 11.2 million people travelled within or into the UK to see live music here. In September 2020, over a third of Musicians Union members surveyed said they are 'considering abandoning the industry completely.' In the meantime, 135 grassroots music venues received emergency grants from the UK government to at least keep them going a little longer – they are so vital to the live music ecosystem.
Cathy: In response to Covid restrictions, the English National Opera have staged the world's first drive-in opera at London's famous Alexandra Palace. It opened in mid September and I was there to see it. It was remarkable watching one of the greatest love stories of all times with a socially-distanced cast. Particularly moving was the death scene – Rudolfo, longing to embrace Mimi, was unable to go near her, and the way that resonated with our pandemic world at the moment was deeply poignant. Terrific singing, set and sound production. Well done ENO. I loved it.

Above: ENO's production of La Boheme. Photo credit: Lloyd Winters, courtesy of English National Opera
Going International
Spotlight on Indonesia
Joel: This new piece of music research from the British Council reveals some of the specific challenges of the Indonesian music sector. It is by no means intended as comprehensive mapping, and neither is it offered as a step by step fix all. However, we do hope it will offer valuable insights into the inner workings of the current sector as well as signposts towards new directions for support and inspiration for collective ambition. You can read the Indonesia music research here.
Awards Spotlight
Here's a quick roundup of upcoming UK music awards to keep an eye on over the next few weeks.
Entertainment Spotlight
What to watch
Katie: Selector Radio host Jamz Supernova has been asking Is This the End of Clubbing in a new documentary for the BBC which looks at the impact of Covid on clubs and nightlife more generally.
Leah: This year marks the 20th anniversary of Longplayer, artist (and former Pogues band member!) Jem Finer's '1000-year continuous composition' which began playing at the turn of the millennium at London's Trinity Buoy Wharf. On 26 September, Longplayer Assembly saw 24 international speakers participate in a conversational 'relay' over 12 hours, with guests sharing their thoughts in response to three questions: 'What kind of future do you want and how could it be realised within your field of expertise?', 'What stories can you tell that point to the kind of future we could be heading towards?' and 'Might collaboration between disciplines help to imagine positive long-term change?' Speakers included musician and producer Brian Eno, sound archivist Will Prentice, novelist and game writer Naomi Alderman, artist and film maker John Akomfrah, epidemiologist Precious Lunga, astrophysicist Janna Levin, environmental lawyer Farhana Yamin, professor of political economy Helen Thomson, philosopher and academic Amia Srinivasan and many more fascinating thinkers worth getting to know. You can watch the Longplayer Assembly on YouTube.
Katie: We've worked with Nubya Garcia in India and Colombia but here she is closer to home, in a completely different setting for this Tiny Desk Concert, filmed at Soup Studio on a boat on the Thames.
What to listen to – music, radio and podcasts
Tom: This has been an incredibly well-received second album from the Wales-born, London-based electronic artist Kelly Lee Owens, whose debut was nominated for the Welsh Music Prize. The album is called Inner Song and there are some real gems in there. Kelly goes into more detail on the Song Exploder podcast.
Katie: Anonymous collective SAULT have been working extremely hard during lockdown and have released another long-player, Untitled (Rise), only 12 weeks after their last. It follows on from Untitled (Black Is) and means they've released four albums now in less than 18 months – an inspirational work ethic. The new album offers another chance to dive into the multifarious influences of this mysterious UK group.
Stephen: On the Mercury Music Prize theme, she's not a new name but I think Laura Marling and her album Song For Our Daughter are both brilliant. It's another collaboration with Ethan Johns whose particular brand of drumming, and an approach to production that focusses on crackling performances rather than gimmicks, really suits Laura M's style. And if you haven't heard the Lianne La Havas album yet make sure you do immediately – it's incredible!
Tom: UK jazz drummer Richard Spaven joins forces with Indian electronic artist Sandunes for this expansive collaborative album. Following a chance meeting at a festival soundtrack a few years ago, this collaboration has been a while in the making, so it's great to see it finally released. Sandunes was one of the three artists who took part in our Different Trains 1947 project.
Katie: Bandcamp have provided one of the best Covid-relief initiatives by waiving their fees and allowing all sales to go directly to artists and labels on their regular Bandcamp Fridays. It's been a welcome boost for artists, but also proved profitable for Bandcamp too: 'Since the pandemic hit in March, fans have bought more than $75 million worth of music and merch directly from artists and labels, and to date, fans have paid artists over half a billion(!) dollars on Bandcamp.' You can hear Aly Gillani from Bandcamp talking about how it all works with Jamz Supernova on our recent Selector Radio feature.
What to read
Tom: I've really enjoyed reading Joe Muggs' book Bass Mids Tops all about sound system culture. Through a series of interviews with key figures it tells an oral history of this important and influential part of UK culture.