Our Spotlight series brings you a round up of music news, our latest music projects and some music we recommend tuning in to when you get chance. You'll find contributions from the team below. Anything we missed? Let us know on Twitter.
Spotlight on UK Music News
Covid passports to unlock festivals?
Joel: To many people in the UK, music festivals conjure up images of summer days spent in fields and parks, and we have all been eagerly anticipating a welcome return to live events and festivals lately. Festivals that have decided to go ahead have, in many cases, sold out in record time. However, many promoters find themselves unable to take the risk, due to an inability to get cancellation insurance. Some hoped the UK government would support with an insurance scheme but at the time of writing this is not forthcoming. Boomtown Festival have just announced their cancellation and the expectation is more festivals hanging in the balance will follow. For those that do go ahead, there is also a lot of debate around how best to ensure Covid-safe events and much controversy around the idea of 'vaccination passports' as a means to secure admittance but many in the sector feel a 'passport' will impinge on important freedoms and rights.
The organisation UK Music recently hosted a panel looking at the roadmap out of the UK lockdown and its implications for music generally.
Streaming on – a fair deal for artists?
Joel: The streaming debate is another hot topic set to run and run. It is rooted in the demand for fairer remuneration for artists from music streaming in response to the poor royalty percentages that musicians are paid. Key campaigner and Gomez band member Tom Gray has been front of the growing campaign named #BrokenRecord which has now seen major music stars sign a letter to the UK government urging reform. It's evident that most people are in support of rethinking the economic models behind streaming but it's also interesting to see Paul Pacifico, CEO of the Association of Independent Music, calling for balance on the positive side of streaming for the sector and for artists too.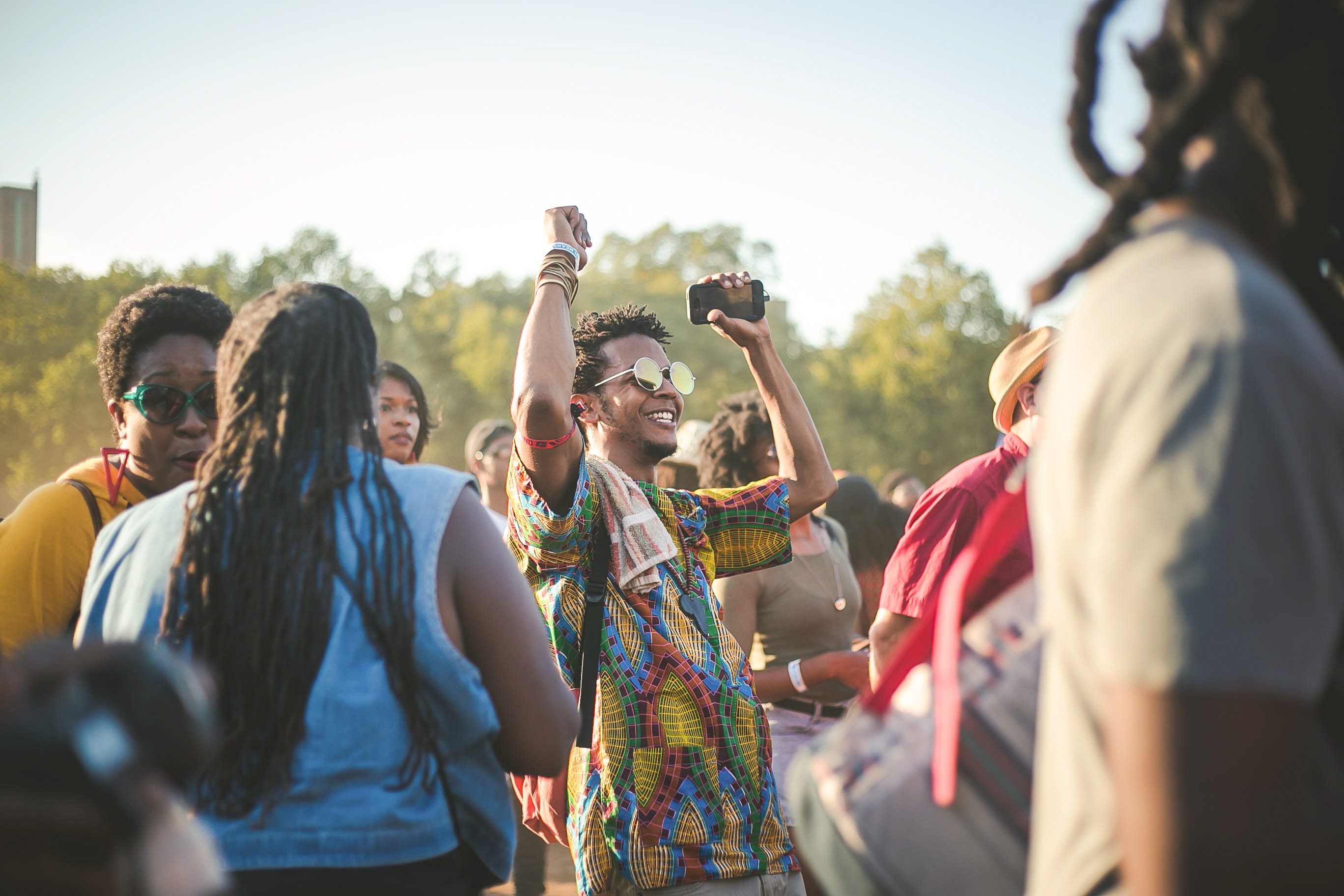 Above: how many UK music festivals will be able to go ahead in 2021? Image credit: Vonecia Carswell
Spotlight on British Council music projects
Mestizo connects London and Bogotá
Mestizo is a collaboration between some of the most exciting musicians in UK and Colombia – and you can watch their film premiere on Sunday 2 May as part of the UK's La Linea Festival. Featuring rising jazz stars including Theon Cross and musicians from the Steam Down community, the project is a culmination of a journey that began in Bogotá in late 2019 when the UK and Colombia counterparts met for the first time to explore a new blended sound. Book tickets now.
Unbound Listening
Catch up with the latest from our series with hcmf// (Huddersfield Contemporary Music Festival) sharing stories from across the world in new music. In this second instalment we welcomed speakers from India, Indonesia and Ukraine to talk about how they explore the climate emergency and humanity's relationship to the environment through their work. Alongside this you can enjoy performances from electronic artist Leafcutter John and excerpts from the large-scale music-theatre experience Chernobyldorf – An Archaeological Opera. Available until 30 April.
Film and Music – the art of composing for screen
We had a flurry of Film and Music activity in March. First up was our Film, Archive and Music Lab – a week-long programme exploring the intersection of music and film with our partners Sensoria. A cohort of UK and international composers came together for a series of lectures, screenings and workshops on the topic of composing for screen. Each of the participants worked on a short archive film clip from the BFI. I recommend reading the fabulous introductory piece all about the art of film scores – and how our expectations of them have changed over time – written by broadcaster and composer, Neil Brand.
Film and Music – behind the TV screen
We went behind the scenes with some hugely knowledgeable and creative music people to discover how music for TV works. Our panel discussion was presented at this year's (virtual) SXSW festival (usually in Texas, USA). Given that many of us have spent long periods in lockdown at home we've been avidly watching more TV than ever, this seemed the perfect moment to explore the topic. 'Soundtracks: Out of the Box' was our panel, chaired by Joel Mills (Music Senior Programme Manager, British Council) with artist and composer Michael Price (whose credits include Sherlock and Dracula), Hannah Peel (composer of the music for Game Of Thrones: The Last Watch) and music supervisor Ed Bailie (whose credits include the Netflix smash Top Boy and Steve McQueen's Small Axe).
Accessibility and music
We recently teamed up with deaf and disabled access organisation Attitude is Everything to deliver a series of seminars and workshops to arts practitioners and organisations across South Asia. We welcomed attendees representing festivals, museums, development institutions and more from India, Bangladesh, Nepal and Pakistan. Together, knowledge was shared around access and how to build inclusive events. This piece of work will also see the online publication of Attitude is Everything's Free DIY Access guides translated into Bengali, Hindi, Nepali and Urdu in the weeks ahead.
Saffron Records
Our Saffron x La Fabrique UK-Tunisia partnership continues with La Fabrique founder and DJ Olfa Arfoui presenting a special Tunisian music mix on Foundation FM – a UK based, female-led radio station. Have a listen!
Above: rooftop music in Bogotá for Mestizo which premieres on 2 May.
Our music recommendations
Here's a musical taster of what's been on our radar recently. 
What we've been listening to
Leah: To me, this beautiful, drone-like piece feels both contemporary and folkloric. It was recorded in Wapping Hydraulic Power Station (built 1890), making full use of its six second delay. Laura performs it using polyphonic bowing – where the player takes the end pin out of the violin bow and wraps the bow hairs over the strings of the instrument. Such a warm and intimate sound, considering the huge, impersonal, industrial space that influenced it.
Eavesdropping series
Leah: I've been exploring this month's Eavesdropping series run by artist Juliet Fraser. It invites musicians to test out their work in progress in front of an intimate audience – normally in a tiny East London chapel, but the series is also online with podcast artist interviews and a symposium. Check out the drum-inspired 'skin cello' of Khabat Abas, and also this showcase of new work by Scottish multidisciplinary composer Lucie Treacher and UK-based Syrian oud player Rihab Azhar: eavesdropping series: Lucie Treacher & Rihab Azar (22 April 2021)
Joel: An angular gritty post-punk sound has influenced generations of artists, and alongside bands like Fontaines DC and Squid, Dry Cleaning offer a dry, deadpan observational take on life in their lyrics. They certainly seem to be getting a fair bit of attention right now. 
Joel: Hustle is a new track from Sons of Kemet featuring Kojey Radical, and a taster of their new forthcoming album featuring Shabaka Hutchings, Tom Skinner, Theon Cross, and Eddie Hick.
8bit – Royal Opera House
Michael: I'm looking forward to checking out this collection of new works specially commissioned for the online space. It features a smorgasbord of interesting artists, including Anna Meredith, Katie Mitchell, Rakhi Singh (Manchester Collective), Sebastian Gainsborough (aka Vessel), André de Ridder, Patrick Eakin Young (Erratica) and Dumbworld, all presenting short moments of music theatre. It's available for free online 30 April – 30 May, to explore in your own time.
Cathy: I have floated along on my late evening walks recently listening to Daniel Kidane's Be Still for strings and crotales, performed by Manchester Camerata. Crotales are mounted antique cymbals, very small, which here are played using a double bass bow giving a unique sound that definitely contributes to the otherworldly calm of this beautiful piece. There's something rather touching about watching the socially distanced players performing to an empty auditorium, with the composer sitting alone in the balcony. With the words of TS Eliot's Burnt Norton in mind – Time present and time past / Are both perhaps present in time future / And time future contained in time past. / If all time is eternally present / All time is unredeemable – Daniel has written a piece reflecting on the experience of lockdown, which creates an inner stillness and calm. You can watch Be Still on YouTube and read all about it here. 
Tom: Back in 2014, electronic music duo LV (Si Williams and Will Horrocks) joined forces with Joshua Idehen from Benin City, who performed at Picnic Afisha in Moscow as part of the UK-Russia Year of Music. 2021 sees the welcome return of these occasional collaborators with their new release, 'Ancestors'. A full album is due out later in 2021.
What we've been reading
Leah: I enjoyed this thoughtful interview exploring music and cultural identity with London-based yangqin player Reylon Yount. Talking about his recent studies at SOAS, he says: 'I began to uncover connections between the yangqin's transcultural history and my life as a mixed race, queer person — we were both born from cultural hybridity, outsiders with unshaped voices.' On music composed for yangqin by composer Alex Ho, he says: 'The piece explores the body of the instrument almost like a lost landscape. To me, it expresses a paradoxical sense of nostalgia that is familiar to many children of diaspora. The piece reflects a ghostly longing we sometimes feel for the home country we never lived in.'
What we've been watching
Joel: New documentary film, Sisters with Transistors has been receiving much acclaim for its wonderful insights into the history of female composers in electronic and experimental music. Find out more about these pioneers.
Leah: Before We Disappear is an online interactive film on being invisible and disappearing, made by Bristol-based artist Asmaa Jama. It incorporates poetry, film, audio, creative coding and storytelling. It was created collaboratively across Ethiopia and the UK during lockdown. I was particularly struck by the care taken to provide sensitive mental health signposting for public participants. Read about the creative collaborators, including Ibrahim Hirsi and Gebriel Balcha who brought archive music and sound design to the mix, here.