British Library: Saving Our Sounds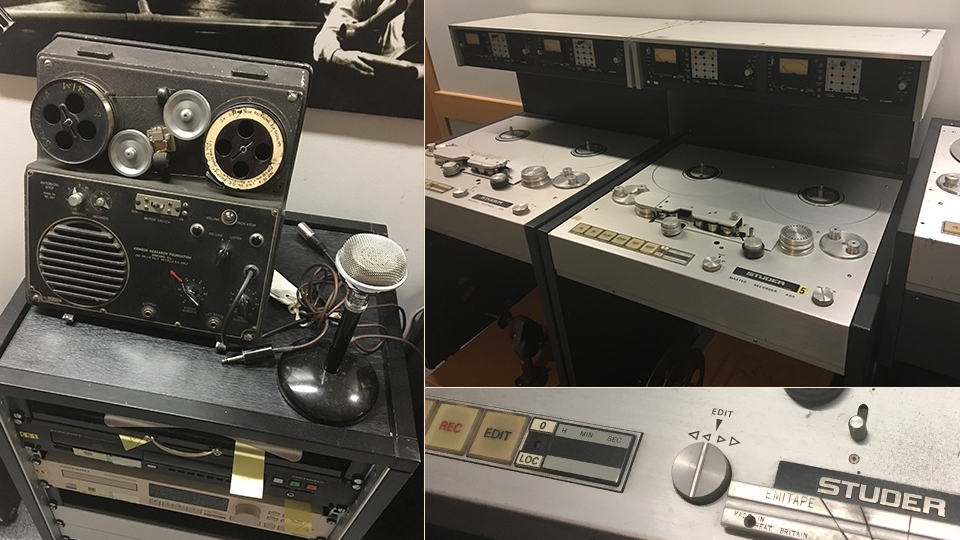 The British Library Sound Archive is one of the largest collections of sound recordings in the world. It holds more than 1.5 million recordings that would take more than a lifetime (120 years) to listen to.
The Sound Archive was initially the idea of one man, a music fan named Patrick Saul. Around 1930, the teenage Saul went into a record shop seeking a recording of a particular violin sonata that he had read great things about. To his disappointment he was told that production of the recording had been discontinued and it was no longer available to buy. After contacting various libraries and institutions, including the British Museum, he found there was nowhere he could hear the record and so resolved to create a national archive of sound recordings that would be available for public consultation.
One of the aims of the British Library is to ensure the nation's cultural and intellectual memory is sustained and accessible … popular music is a very large part of that memory
After persevering for many years, and with the help of Decca Records and a Quaker trust fund, Patrick Saul opened the British Institute of Recorded Sound in 1955. A public appeal resulted in the donation of thousands of recordings from music fans and in 1966 the archive opened premises in South Kensington, behind the Albert Hall and close to the Victoria and Albert museum. In 1983 it became the British Library Sound Archive and is now located at the British Library building in St Pancras, London.
Patrick Saul's vision for the Sound Archive was for it to be "omnivorous". Although his inspiration was classical music he wanted to archive every aspect of sound recording, from spoken word, oral history, wildlife and environmental sounds to drama, literary readings and every type of music.
Curating the Collection
I work at the Sound Archive as Curator of Popular Music and my role is to ensure that all aspects of UK popular music are represented in our collections. One of the aims of the British Library is to ensure the nation's cultural and intellectual memory is sustained and accessible. The UK's place as a dominant global influence in popular music is a very large part of that memory. Our brief is to reflect the immensely creative output and heritage of UK music but we also have examples of popular music from other countries around the world.
Our popular music collection covers all manner of styles and it ranges from wax cylinder recordings of late 19th century music hall right through to 21st century grime recordings on digital formats. There's also punk, funk, rock and roll, reggae, metal and pretty much everything in between. We have a huge collection of nearly 250,000 vinyl LPs, a similar number of shellac 78rpm discs, more than 350,000 CDs and thousands of other recordings on all kinds of formats.

Above: The British Library has a huge collection of recordings in old and new formats
Recordings come into the archive from a variety of sources but the main source is donation from record companies. We also receive donations from individuals – sometimes whole collections that someone might have built up over their lifetime and sometimes it might just be a single long-forgotten item. Last year I had a call from a woman who had a cassette she bought at a gig many years ago by a young band she used to see playing at various venues around Oxford. She no longer had a cassette player so it was no use to her but she thought we might be interested in having the tape as it was the band's first recording, then known as On A Friday. That same band went onto have worldwide success as Radiohead.
Even relatively recent formats such as Minidisc, Digital Audio Tape (DAT), VHS and Betamax are at risk because the means of playing them are no longer manufactured
We also collect interviews, documentaries, sessions and live performances – anything in fact that gives context or information about popular music which augment our collection of commercial releases. These can come to us from performers, individuals, broadcasters and institutions. More unusually, one recent acquisition was a lacquer (acetate) disc recording of a performance by the blues pianist Memphis Slim – recorded live by the promoter of a concert he played in Kings Lynn. It came to us after we were contacted by a charity shop worker who had noticed the unusual format tucked in amongst a new donation of vinyl records.
The recordings in the Sound Archive are available for listening by British Library readers. They are used by researchers, writers, scholars, journalists and members of the public working on all types of projects: film and television programmes, biographies, family histories and sometimes just personal interest in discovering the archive.
We also use exhibitions and events to encourage use of the recordings and associated material. A recent exhibition I curated on punk rock attracted a large and different audience to the library and drew attention to the fact that popular music and culture are an important part of our collections.
Save Our Sounds
Some 90,000 items from the Sound Archive are available more widely through the British Library Sounds webpages and this number will increase rapidly in years to come as the result of a recent initiative known as Save Our Sounds. This massive project, with funding from Heritage Lottery Fund, aims to digitise 500,000 rare, unique and at-risk sound recordings from the Sound Archive and other key collections around the UK and then make them available online.
Many of these recordings are at risk from physical degradation and others are at risk because the means of playing them are no longer manufactured. Even relatively modern formats such as Minidisc, Digital Audio Tape (DAT), VHS and Betamax all fall into the latter category so we have stockpiled professional-standard equipment that will allow us to play these formats in order to digitise them for the duration of the project.
The fruits of this project are starting to come through and we have already made some new discoveries including interviews with Madonna, a live performance by R.E.M. and a recording of David Bowie singing "Space Oddity" at a press conference from 1990.
Curation in the Digital Age
Another aspect of Save Our Sounds is the Digital Audio Collection project which I am currently involved in developing. For many years we have acquired recordings from record companies in physical formats (LPs, CDs and so on) but in recent years the development of the digital domain means that many recordings do not follow this traditional route – they may not even exist in a physical format – yet we still need to acquire and archive them. 
To achieve this, we are developing a system where we receive digital recordings from labels via their aggregators (distributors) and are able to take the recordings' descriptive metadata (things like the title of the track and the artist) and automatically create a catalogue entry for the recordings as they are sent to our long-term digital storage system. Whilst developing this project we have been receiving digital files from a number of leading independent labels such as the Beggars Group and Domino which means that music from artists like Adele and Franz Ferdinand are entering the archive through this route.
Pop music remains one of the UK's most important creative cultural forces
Of course, nowadays there are plenty of groups and artists who do not use a record label or aggregator to release their digital material. To cope with this, we are developing a portal that will enable contributors to upload their sound recordings to us in appropriate formats and with metadata structured according to our catalogue and conservation needs, which will then be ingested into the archive. We are constantly scouring digital platforms and networks, including Bandcamp and Soundcloud, to discover such material and contacting people releasing material that might be of interest.
Pop music remains one of the UK's most important creative cultural forces and it is important that this is properly reflected in the British Library's collections. The near-constant  changes in technology and evolution and creation of new musical styles and genres continues and the British Library is meeting these challenges with its own new technology and adapting working practices to ensure we reflect this important aspect of our cultural heritage.
– Andy Linehan