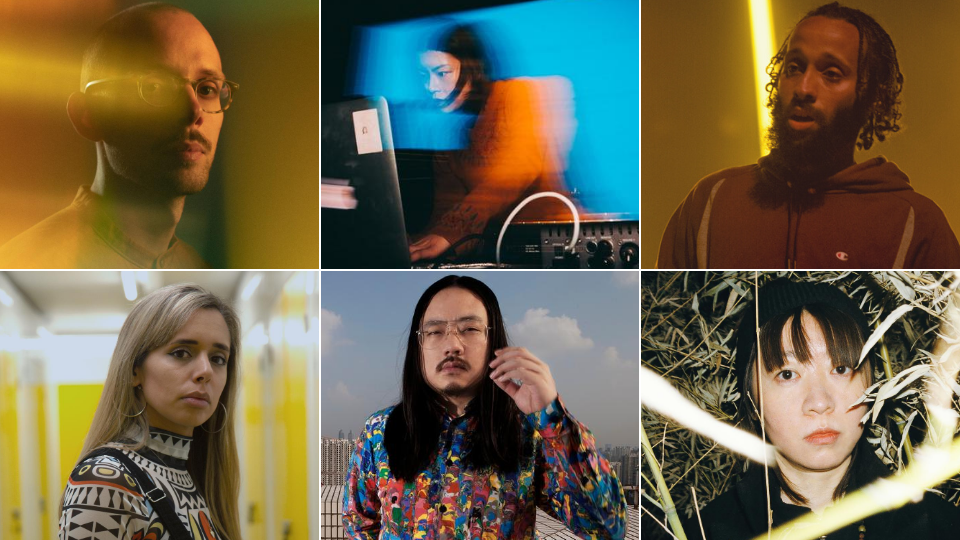 Working with Worldwide FM in the UK, Merrie Records in China and with the support of property developer Xintiandi, we're connecting three UK musicians and three Chinese musicians with the culture and sounds of each other's countries as part of a new programme, Distant Dialogues.
The musicians – Wonky Logic, Kayla Painter and Hector Plimmer in the UK, Gooooose, Shii and Gogoj in China – have posed a question to the people of China and the UK respectively and invited the public to submit their audio, visual and text responses which will form the basis for a new track from each of the artists.
Connecting people and cultures has always been our raison d'être at the British Council. Covid-19 presents us with a challenge but also an opportunity to connect in ways other than face to face and Digital Dialogues will harness online technology to transport our artists without them leaving their homes. We've taken inspiration from our Musicians in Residence programme which, for the best part of a decade, saw UK musicians one by one make the journey to different places in China to immerse themselves in the music and culture of 15 cities from Chengdu to Changsha.
Discover Distant Dialogues content
Distant Dialogues compilation on Bandcamp
The 8 track compilation of Distant Dialogues, featuring tracks from each of our UK and China based artists, is available now on Bandcamp. Take a listen!
Player not loading? Head to Bandcamp.
Something is lurking ...
Is art 'weak in the face of death'? Read Chinese artists Shii, Sheng Jie/Gogoj and GOOOOOSE perspectives on Covid-19 and Distant Dialogues
Listen to Kayla Painter and Shii on Selector Radio
Kayla and Shii are on the line to Selector Radio host Jamz Supernova to talk about Distant Dialogues and what Covid-19 has meant for them as musicians in the UK (Bristol) and China (Wuhan) respectively. Kayla also jumps in the mix to close the show and you can catch her on Selector's sister platform, Seletor After Dark, for a full one hour mix.
Distant Dialogues Playlist
Worldwide FM Broadcast
Listen back to the Worldwide FM Distant Dialogues show to hear words and music from remote residents Kayla Painter, Gooooose, Hector Plimmer, Shii, Wonky Logic and Sheng Jie/ Gogoj. The artists share their unique experiences that have resulted in distinct and beautiful projects.
Meet the UK artists
Wonky Logic
Founding member and bass player of the band Steam Down, Dwayne Kilvington AKA Wonky Logic is also a producer and multi-isntrumentalist from Leeds. He has toured extensively with many projects and collaborations in Europe, South America, Africa and Asia with artists such as Nubya Garcia, Theon Cross, Wiyaala, Afla Sakey and K.O.G. His current projects include his own band with Nache AKA Edward Hick (Sons of Kemet) as well as The General Elation Soundsystem alongside Brother Portrait and Nadeem Din-Gabisi. He plays keyboards for Bryony Jarmon-Pinto, synth bass with afrofuturism band ONIPA and has recently played on Emma Jean Thackray's project Um-Yang alongside Soweto Kinch.
After releasing his EP Mindmarkets in 2012, Wonky Logic produced multiple remixes for artists such as Nubiyan Twist, Kefaya and Bryony Jarmon-Pinto, Afriquoi, Mansion of Snakes, El Hiest and Me And My Friends. Wonky Logic has also produced songs for Onipa, Ego Ella May, Alexander London and Tess Hirst. He has featured as a bass player on Sampa The Great's album The Return and done collaborative writing sessions with Celeste.
On 23 July 2020, Wonky Logic released his debut album 0113 showcasing his passion for beatmaking comprised of wonky beats and swirling synths. A peek at what's to come from this new UK talent.
Kayla Painter
Following stints in more conventional bands at university, Kayla Painter's personal journey led her deeper into electronic music production and academic reflections on our relationship with sound. She is now a visiting lecturer at several higher education institutes and her critical analysis of sound is as accomplished as her approach to music. A passionate advocate for the creative potential in field recording, her compositions bristle with self-sourced timbres captured in an enduring spirit of experimentation. 
This isn't just art for art's sake though – Painter uses her platform to explore specific themes both personal and external. 2018's Cannibals At Sea grappled with her mixed Fijian-British heritage, juxtaposing Pacific islander beliefs with British working class values in a compelling exploration of her own identity and the wider world around her. 
Painter also places emphasis on the visual representation of her work to build on these ideas. Ambitious videos to date include the poised symbolism of Sacrificial Magic, considered choreography of Drones and surrealist fantasy narrative of efa. This visual ethic extends into her live shows, where she regularly collaborates with Jason Baker to add a further dimension to her creative imprint. Her immersive, ever-evolving AV performances are a natural consequence of the entire writing process – the visuals figure into the earliest stages of her music. 
Hector Plimmer
Born and raised in South London, Hector Plimmer is a multi-faceted producer, composer and DJ who's debut full length record, Sunshine was met with rapturous acclaim with the support of BBC 6Music as well as Jamie Cullum on Radio 2. He has featured on Brownswood Bubblers 11, curated by Gilles Peterson, and proved his talent as winner of the PRS Steve Reid InNOVAtion award.
Albert's Favourites – the label behind Sunshine – describe Plimmer's sound on the album as influenced by Portishead and Leftield but also 'drenched in tribal rhythms and beautifully crafted bass. Melodies weave and shift to make way for glorious synths or vocal lines. Clearly influenced by beat-makers like Flying Lotus and Theo Parrish, but with the subtleties of the classic Metalheadz era Drum and Bass.'
As a DJ Hector has a monthly slot on NTS radio. He has played alongside the likes of Gilles Peterson, Kutmah, Alexander Nut, MNDSGN, Onra, Dego, Kaidi, Max Graef & Glenn Astro; Hector finds himself in the good company of those talented selectors who play genres across the spectrum of Hip-hop, Beats, Funk, Soul, Disco, Afro-beat, House and Jazz.
Last year saw the launch of his live performances. Flanked by Dave Koor and Tim Doyle on keys and percussion, with Vocalist And Is Phi heading up the quartet. Recent performances have included supporting Nightmares on Wax, Amp Fiddler, Yussef Dayes and Flako. Key festival performances include Glastonbury, The Great Escape and Brainchild.
As a composer Hector was selected by Google to test and compose the inaugural piece on their open source AI synth, the 'N Synth Super'. His tracks have been synced to date by the likes of WACOM, Nike, i-D, Zandra Rhodes & Kitty Joseph.
Meet the Chinese artists
Shii
Shii is a Chengdu indie electronic artist currently residing in Wuhan, China. Her production draws elements from IDM, art-pop and dream-pop, merging them into catchy, fluent melodies. Shii has been invited to perform in Simple Life Festival, StreetVoice's The Big Landing, Fete de la Musique and more. She signed with Beijing label Merrie Records in early 2019, and her debut 'Floating Signifiers' and EP record Duration were released in July and November 2019.
Sheng Jie / Gogoj
'Listen' and 'Watch' are two major elements in Beijing artist Sheng Jie's work, creating a circulatory system of perception in the space. Her creative outlets find many forms, from experimental music, sound, video and painting to film, installation, composition and audio and visual art performance. Sheng Jie founded Shan studio in 2010, is manager of Maybe Ensemble and founded DOT audio-visual art laboratory in 2018.
GOOOOOSE
GOOOOOSE is Han Han. His multi-instrumental approach of making music usually leads the audience into a place where ambient soundscape, heavily synthesized texture and syncopated rhythms find their harmony, yet still fighting with each other. Apart from making music, Han Han is also a visual artist and software developer, also front man of one of China's electronica band "Duck Fight Goose" and owner of Miniless Recordings.