FAMLAB 2018: Meet The Participants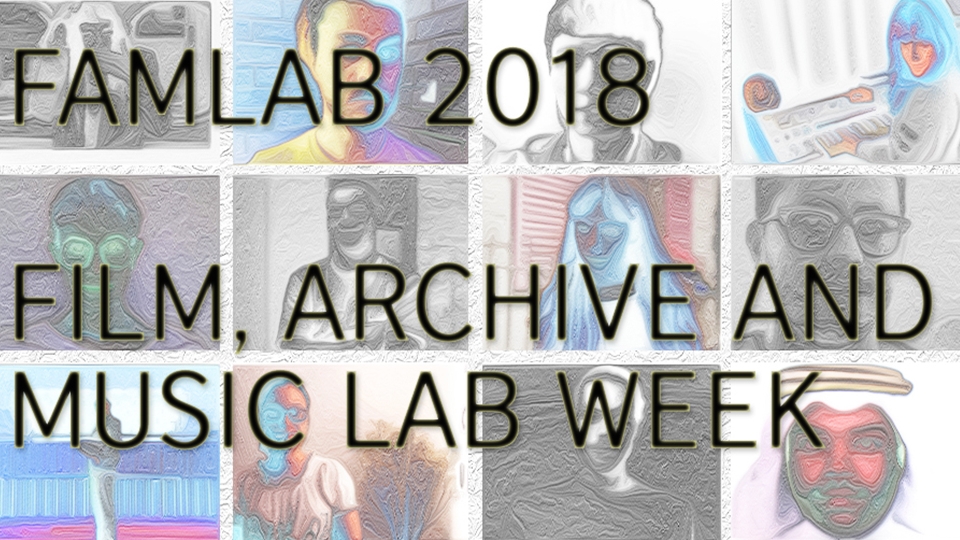 Our Film, Archive and Music Lab Week (FAMLAB) is back and we're bringing 13 artists, musicians and composers together, to explore the world of music, archive and film, for a lab week that will involve practical scoring workshops, discussion, knowledge sharing and the chance to hear from some of the UK's most experienced voices in these fields. Our 13 participants were all selected through an industry-based nomination process and boast an impressive array of talents and experience between them – there are sure to be some fascinating discussions and opportunity to learn new approaches, exchange ideas and compare stories.
Our first Film, Archive and Music Lab Week took place in February 2016, devised as a way to bring music and film people together to explore the huge creative potential when these worlds collide. In the two years since, the opportunities for musicians working with film - and other forms of moving image from computer games to installations - seems to have grown exponentially. More and more composers are moving into the film and music space and so, as the scene matures, this year's FAMLAB is sure to shed new light on the growing opportunities and help participants develop their confidence and skills in working with film and visual media.
This year, our participants will begin the week at the British Film Institute (BFI) on Monday 1 October looking at the BFI's incredible archive and hearing from the team that maintains and restores archive material for future generations to enjoy. Broadcaster and writer Matthew Sweet will deliver a talk on the ways film provides a home for contemporary and avant-garde music far beyond what many cinema-goers would sit down to listen to in the concert hall. We then decamp to Sheffield for Sensoria - a festival of music, film and digital media in the north of England - and, as well as a range of talks and workshops, there will be an opportunity for participants to share and pitch their latest work.
We are indebted to the support of our partners BFI and Sensoria to make this year's programme happen and our wonderful colleagues in the British Council Film team.
Meet our FAMLAB 2018 participants below.
B6 – Shanghai, China
Lou Nanli was born in Shanghai and made his name as an electronic musician, composer, producer, sound and media artist. Since 1999, Nanli has been creating electronic music and sound art under the name B6. He has also produced and released various work while also composing soundtracks for films and art projects. He has performed around the world while combining his work as a media and video artist. B6's media and video work focuses on multi-screen videos and multi-channel surround sound. He has also collaborated with many art institutions and projects and his art works have been exhibited in various of museums, art galleries and art spaces.
David Austin Grey – London, United Kingdom
David Austin Grey is a UK based pianist, composer and educator working across multiple musical disciplines. He has worked throughout the UK and performed internationally including residencies in Brazil and South Asia. His group Hansu-Tori has received national press and radio play. A graduate of The University of Birmingham and Birmingham Conservatoire, David has worked with such well-respected artists and institutions as Birmingham Royal Ballet, Courtney Pine, Eliza Shaddad, Soweto Kinch, Michael League and Black Voices. He has also supported GRAMMY-winning artists Marcus Miller, Terri-Lyne Carrington and Snarky Puppy. As a performer, David has appeared at numerous venues and festivals across the country including Cheltenham Jazz Festival and The Royal Albert Hall. In 2018, David was awarded a place on Sound and Music's national New Voices program.  
Anton Dehtiarov – Kyiv, Ukraine
Anton is a Ukrainian-born music composer, performer and sound producer. He has been composing music professionally since 2015 and has participated in numerous projects as a composer. He participated in a cultural and artistic residence at Nad Bohom, Vinnytsia, that aimed to shift public and media attitudes around Ukrainian society attention and emphasise its rich culture. During a residency in The Kaunas Requiem, he composed music that focused on Holocaust victims in Lithuania. In 2017 he composed and performed an adaptation of A Man With A Movie Camera (Vertov, 1929). In 2018, Anton participated in Envision Sound in Kyiv, a partnership between the British Council and Oleksandr Dovzhenko National Centre in Ukraine. Alongside his work in music composition, Anton is currently working in on his solo electronic music in Kyiv and is also part of an instrumental music duo.
Robin Edwards – London, United Kingdom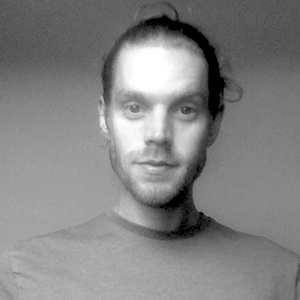 From obscure underwater sound art performances and city centre clocktower sound installations, sound artist and musician/producer Robin Edwards has emerged under the alias R.Seiliog. In 2012, he released the Shuffles EP – a warm, analog synth-driven slice of psychedelia – and followed up with his debut long player, 2013's Doppler, which paid homage to Krautrock. Welsh rock band Manic Street Preachers were so inspired by Doppler that they entrusted Edwards to remix their single "Futurology". 2014 saw the release of his critically-acclaimed second album In Hz, prompting Mojo Magazine to say "R.Seiliog presides over a subtle, imaginative record that transcends many genres". Thump said it was "so good it hurts". Edwards' work has received airplay from the likes of Huw Stephens, Mary-Anne Hobbs, Radcliffe and Maconie and Lauren Laverne. More recently he has been scoring and performing a live electronic soundtrack to A.Dovzhenko's cinematic masterpiece Earth.
Elsa Hewitt – London, United Kingdom
Elsa Hewitt is an award-winning songwriter and producer working in both electronic and acoustic music. In 2016, after more than thirteen years dedicated to songwriting, recording albums and playing in bands, Hewitt won the PRS Foundation's Lynsey de Paul Prize and the same year was recognised through Brownswood Music's talent development programme, Future Bubblers. The Brighton-born artist used this support and funding to release three albums the following year: Cameras From Mars, Dum Spiro Spero and Peng Variations. These albums were released on her own label, currently known as ERH. Gravitating ever more towards her experimental side, in June 2018 Hewitt released her first collection of ambient and instrumental pieces, Quilt Jams, which partly serves as a precursor to her new album, coming later in 2018.
Lu Luming – Pingtug, Taiwan
Lu Luming was born in 1982 in Pingtug City, Taiwan. He is an award-winning composer, working in the worlds of film, TV and theatre in Asia. He was the winner of the Best Music and Sound award at the 2017 Golden Bell Awards (the Taiwanese Emmys) for his music for the TV thriller series Close Your Eyes Before It Gets Dark. He was also the composer for the award-winning UK-Taiwan feature film The Receptionist (2017), starring Chen Shiang-Chyi and Joshua Whitehouse, with executive producer Damian Jones. His most recent composing work was for the critically acclaimed Xiao Mei (2018) which was selected as opening film for the Hong Kong International Film Festival, nominated as the best feature film at the Taipei Film Festival and selected for this year's Berlinale in Germany.
Nasser Sahim – Doha, Qatar
Nasser Sahim started his musical career in 1995 inspired by his late uncle, the legendary Qatari singer, Faraj Abdul Karim. As a youngster, he was a prodigious Oud player; his first composition, "Al Asdeqa" (Friends), was published in 2011. Sahim's compositions reflect his passion for both classical and traditional harmonies and he has composed commercial and classical music for local TV programs in Qatar. His most well-known compositions include "Al Haneen", the Four Season-orchestra symphonic work. Sahim is currently working with Al Jazeera, the Doha-based broadcaster, composing music for documentaries.
Nhung Nguyen – Hanoi, Vietnam
Nhung Nguyen is an emerging Vietnamese sound artist currently based in Hanoi, experimenting across a range of left-field aesthetics and expressions – ambient drone, electro-acoustics, noise music, musique concrète and others. Since 2014 Nhung has been making works under the moniker Sound Awakener and using her real name for the more cinematic, piano-driven projects. She has worked with international labels such as Time Released Sound (US), Unknown Tones Records (US), Soft (France), Flaming Pines (UK), Fluid Audio (UK), Syrphe (Germany). In addition to her solo work, Nhung has collaborated with artists from various other disciplines, often adding audio elements to visual experiences. Nhung's music and sounds have appeared in exhibitions such as Phan Thao Nguyen's Poetic Amnesia (HCMC and Hanoi, 2017), the public-art initiatives Into Thin Air (2016) and Into Thin Air 2 (2018). Nhung has also worked on music compositions for short films, including Sala (directed by the Funk Brothers) and Long Departure (David Ellis).
Rohit Shakya – Kathmandu, Nepal
Rohit Shakya is a multi-instrumental, multi-disciplinary artist based in Kathmandu, Nepal. He is primarily a music producer who has, in recent years, also been involved in music-video direction and editing. A sound engineering graduate from SAE Institute, Thailand, Shakya's music production credits include collaborations with artists Astha Tamang Maskey, Albatross, Topi and Jindabaad. Shakya has also been working on audio for feature-length films and won an award for Best Background Score for a Nepali Feature Film in a national film award ceremony last year. When not working on these projects, Shakya makes electronic music under the alias The Author, drawing inspiration from sensory experience. Outside music production, Shakya's other passion is filmmaking and music video production. He is the founder of Fuzz Factory Productions, an audio/video production company, which has been producing music videos and documentaries since 2012.
SURMA (Deborah Umbelino) - Leiria, Portugal
Debora Umbelino is SURMA, a one-woman-band from Portugal blending keys, samplers, strings, voices and loop stations, moving from jazz to post-rock, from electronics to noise and ending up in her own unique soundscapes. SURMA hails from Leira, a city in the centre of Portugal with a growing music scene. After several years spent between voice and double bass modules at the Hot Clube de Portugal and an audiovisual post-production course, SURMA took to the road playing solo concerts across Portugal and Spain. "Hemma" is the lead single from her upcoming debut LP Antwerpen, due for release in October 2018 on Omnichord Records. The music video for her second single "Plass" sets up the tone and themes for the forthcoming album, exploring the body as a ground for textures and visual experiences, through poetic soundscapes. The music video for "Plass" was directed and produced by CASOTA Collective.
Natalie Sharp – London, United Kingdom
Natalie Sharp leads Lone Taxidermist, whose 2017 album Trifle became a cult hit through its unique blend of post-punk and Peaches-style electro. In 2017, The Guardian tipped them as ones to watch: "the best live band you have yet to see. Imagine a fetish party in a bubble-wrap factory overseen by a pushy lollipop lady and you're kind of getting near." On the lookout for new and surreal dimensions of expression, Natalie Sharp's malicious metier lurks somewhere between the eldritch diva manifestations of Diamanda Galas and the wry reflections of Victoria Wood, yet equally driven by a magpie spirit and conceptual chutzpah redolent of Leigh Bowery and an acidic wit damaged by John Cooper Clarke. Natalie is currently creating a 360, multi-sensory, ever expanding live performance art and audio visual project BodyVice the body as a device, fusing anatomy with synthesis. 
Mandy Wigby – London, United Kingdom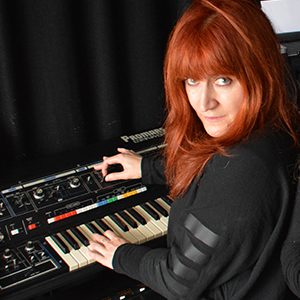 Mandy Wigby is a musician, composer, producer and sound artist whose music has been used in films, TV and radio. She has released albums and singles, toured internationally with The Sisters Of Transistors and Lionrock, created music for short films, worked on sound design for various muti-media projects and is currently part of the collective The Architects Of Rosslyn. Recent projects have seen her develop a Sensory Soundpit with Di Mainstone, Howard Jacobs and a team of coders for the European City of Science 2016 and Bradford Science and Media Museum's SuperSenses 2017. In 2015, a commission for Delia Derbyshire Day led her to create a piece with Howard Jacobs using archive material alongside films by Di Mainstone at Home Cinema in Manchester, Leeds College of Music, Festival No6, Band on the Wall and Blue Dot Festival. Mandy is currently working with Di Mainstone again on the Wonderlooper – a Play The Bridge project in Sunderland. Later this year she will be touring with Phil France (Cinematic Orchestra) for his solo album Circles.