Musicians in Residence, Brazil 2018-19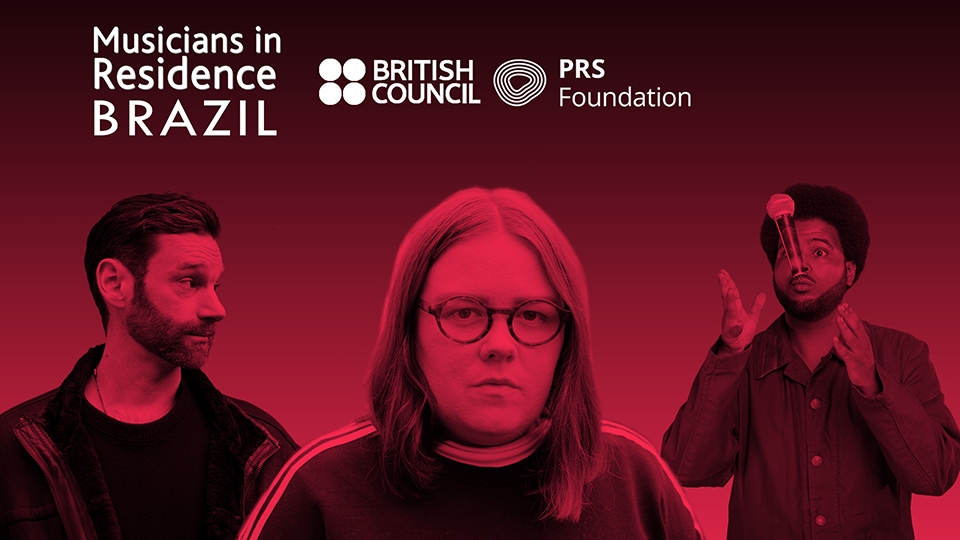 We're heading to Brazil with PRS Foundation once again and three new superb UK musicians are standing by, ready to take the plunge into three unique residencies in South America.
Our three musicians are AWATE, Emma-Jean Thackray and Tom Calvert AKA Redinho and they will be travelling to São Paulo, Bragança Paulista and Fortaleza respectively.
Last year our musicians made Recife, Rio de Janeiro and Mato Grosso their temporary homes and returned with tales of wearable music technology ((Tara Pattenden in Rio), making music inspired by carnival in full swing (Nwando Ebizie in Recife) and living and working with the Wauja community along the Xingu river (Nathaniel Mann in Mato Grosso). You can listen to all of last year's residents as they shared their stories with Georgina Godwin in our special arts podcast.
Connecting people through music
British Council Director, Music, Cathy Graham explains: "we are now well into double figures for musicians that have taken part in our Musicians in Residence programmes with PRS Foundation and I'm delighted to see three more exciting musicians heading to Brazil for our second set of residencies there. As with our residencies in China, we'd probably run out of musicians long before we can even say we've scratched the surface of the richness and variety of the music such a vast country has to offer. It is always wonderful to hear about the collaborations that emerge between musicians of the UK and their counterparts overseas and how their lives have changed as a result of the time spent immersed in a new culture. At this time, maybe more than ever, it shows us that music has a unique power to connect people across whatever barriers it encounters."
Vanessa Reed, CEO of PRS Foundation, was delighted to see these three musicians continuing the residencies story: "huge congratulations to the three very talented music creators that have been selected for this exciting project. Our residencies programme in partnership with British Council, is a fantastic and unique opportunity which has led to many award-winning and career enhancing pieces of music and collaborations. I look forward to following the progress of Awate, Emma-Jean Thackray and Redinho and the impact it will have on their careers. I'm also delighted that SIM, the industry conference which is one of our host partners in Brazil, has signed up to our Keychange initiative and will be hosting discussions about female talent and artist development opportunities at their next festival in December. Thanks to everyone in Brazil and in the UK who are making these new collaborations possible."
Meet the Musicians in Residence, Brazil 2018-19
AWATE
AWATE is a visionary rapper from Eritrea who weaves together psychedelic melodies and sharp, witty lyrics. Born in Saudi Arabia and raised in Camden, AWATE's critically acclaimed Shine Ancient EP and Happiness LP have been praised and featured on BBC Radio 1, 1Xtra and 6Music as well as Noisey, Spotify and Complex. In 2018, he was nominated for Best Urban Act at the Unsigned Music Awards 2018. He has collaborated with Paul White, Maverick Sabre and Kwake Bass since releasing his debut album earlier this year.
This residency offers an opportunity for AWATE to compare two rap scenes – his hometown of London and the super-metropolis of São Paulo. "The way different regions have embraced and remixed hip-hop to cater to their unique cultural, geographic and economic conditions is incredible with the African diaspora in London creating and exporting 'Afro-swing' based on fusing their parents' music with grime, rap and reggae," explains AWATE. "I look forward to experiencing and learning more from the SIM Live performances."
AWATE is hoping to create an EP in collaboration with the instrumentalists, singers and producers he meets in Brazil, representing Brazilian's real life stories and weaving in melodic and rhythmic ideas from the São Paulo scene. Previously AWATE has collaborated with Brazil-based English multi-instrumentalist Chris Franck and the Brazilian master percussionist, Pedro Lima.
Tom Calvert AKA Redinho
Tom Calvert, better known as Redinho, is a music producer, vocalist and composer. He's released numerous solo records under various aliases, including a full length album Redinho in 2014, on the Glaswegian label Numbers, and produced for a range of artists including Kimbra, Bonzai and the transatlantic rap group Swet Shop Boys, featuring Riz Ahmed and Heems. Calvert produced the Swet Shop Boys debut album Cashmere (2016) and the follow up EP Sufi La (2017), both of which were released on Customs, a label the group co-founded. Calvert has also worked as the musical director for Hudson Mohawke's live band which toured Europe, US, and Japan from 2015 to 2016 on the Lantern album campaign.
In 2017, Calvert released a project called Zanbor with an accompanying film made by filmmaker and producer Abdullah Al-wali, and exhibited this collaboration at Arts Catalyst in London. In 2018, under Redinho, Calvert released Square One featuring the Grammy-winning artist Kimbra, and Mmm Mmm featuring Vula – the latter was Annie Mac's (BBC Radio 1) "Hottest Record In The World."
Calvert hopes to discover some new instrumentation in Brazil. By his own admission, past projects have seen him become "besotted" with the sonic properties of instruments – from the harmonium of South Asia that he encountered when working with Swet Shop Boys to the khishba, an Iraqi folk drum. "The khishba fascinated me … I don't think it's a coincidence that a region that has experienced such turmoil has a drum like this embedded in its folk culture," says Calvert. "This drum … inspired me to play with the wasp idea with buzzing synths and manipulated the khisbha into various sounds to produce what turned out to be a body of musical work and an accompanying video." He hopes to continue work in this vein when he gets to Brazil, while being open-minded about what music he might discover there: "I want to connect with people and communities, understand, research and experiment, and let this approach guide my direction."
Emma-Jean Thackray
With the support of Gilles Peterson, RBMA, Sounds of The Universe and many more behind her, rising mega-talent Emma-Jean Thackray is a wearer of many musical hats. As a composer, producer, multi-instrumentalist, singer, bandleader and DJ, she is just as at home working with the London Symphony Orchestra as she is hosting her show on Worldwide FM or tearing it up on trumpet with her quartet. Thackray's 2018 album Ley Lines on The Vinyl Factory label follows the acclaimed Walrus EP and maintains her trajectory as one of the most talented young musicians in the business. "One of the UK's most exciting new jazz artists," says RBMA.
From her current home in South East London, arguably the centre of the current British jazz boom, her Brazil residency will whisk her off to Bragança Paulista to the north of São Paulo and away from the hustle and bustle of city life. "Immersion in a new culture and deep research into a place's musical history awakens my ears to new sounds and sparks my creative process," she says. Acknowledging that jazz is often at its most radical when reacting to and being influenced by other musical forms, she will find herself in the right place for a whole new adventure. After recording her debut album largely alone, she's hoping to forge some new collaborations in Brazil, learn a lot from other musicians and take advantage of the time away to develop some new ideas.
Visit the Brazil locations
Sao Paulo
AWATE will spend six weeks in São Paulo, the most populous city in Brazil, the Western Hemisphere, the Southern  Hemisphere and the largest Portuguese‐speaking city in the world. São Paulo is the capital city of within the state of São Paulo, one of the most populous and wealthiest states in Brazil with vast international reach in terms of its commerce, finance, arts and entertainment.
São Paulo today has more for independent music venues than ever before. Many have grown in popularity from humble beginnings but the most important change in the São Paulo nightlife in the last few years is within the creative scene.  Artists are moving out of closed environments – the "black boxes" – and out onto the streets and into alternative spaces. This overlaps with the city's burgeoning hip-hop and rap scene, developing out of the poorer suburban areas and into the central cultural heart of São Paulo.
SIM Sao Paolo
Semana Internacional de Música de São Paulo (SIM SÃO PAULO) is the most important music convention in Latin America. Over the course of five days, the city becomes a meeting point for professionals from all sectors of the music industry, as well as artists and media from both Brazil and abroad. The event focus on the new music market and puts in evidence new ideas and concepts that are transforming the music scene. SIM connects people through various three main activities: SIM Live – introducing audiences to new music; SIM Convention – discussing the trends and themes occupying the music industry today; and networking and business events to help forge new partnerships.
Since 2015, SIM SÃO PAULO has been working on ways to connect with the city's poorer suburban areas, taking vocational and artistic content to the outskirts of the city. SIM TRANSFORMA is the result in partnership with Fábricas de Cultura and many local art and music collectives.
Fortaleza
Tom Calvert will spend six weeks in Fortaleza, the state capital of Ceará located in North-eastern Brazil. Fortaleza is an important industrial and commercial centre for Brazil and one of the richest in the region. It is also the closest Brazilian state capital to Europe, lying 5608km (3484 miles) to the south east of Lisbon, Portugal; it is also one of Brazil's most popular destinations for visitors. In 2014 it was one of the host cities for the 2014 FIFA World Cup.
The Atlantic Ocean lies to the north of the city; to the south are the municipalities of Pacatuba, Eusébio, Maracanaú and Itaitinga; to the east is the municipality of Aquiraz; and to the west is the municipality of Caucaia. Residents of the city are known as Fortalezenses.
Ceará has a vibrant music scene and artists from the state are becoming more well known nationally. The state is producing more and more composers and singers such as Daniel Groove, Lorena Nunes, Soledad Brandão amongst others. Instrumental music has been gaining ground in recent years in Ceará and there are many festivals dedicated to presenting new music with bands developing a new sound including Astronauta Marinho, Danchá, Selvagens a Procura de Lei and Projeto Rivera.
Dragão do Mar Center of Art and Culture
Dragão do Mar Center of Art and Culture is the main cultural space within Fortaleza. It hosts Ceará's Museum of Culture, the Contemporary Art Museum of Ceará, theatres, a planetarium, movie theatres, shops and spaces for public presentations, as well as housing the Public Library Governador Menezes Pimentel. It also hosts two schools: The Porto Iracema Art's School and The Thomaz Pompeu Sobrinho Art's School and Casa de Jose Alencar a museum dedicated to Brazilian literature. Perhaps of most interest to Tom Calvert will be the laboratory of music within Porto Iracema School of Arts.
Bragança Paulista
Emma-Jean Thackray is heading to Bragança Paulista lying in the northern reaches of São Paulo state. Officially named the Climatic Resort of Bragança Paulista, it is located some 75km to the north of São Paulo city and has a population of around 165,000 inhabitants. It is also known as "City Poetry" and the "National Capital of Sausage" because of its famed local sausage producers. The city is historically linked to the gold explorers, ranchers and adventurers who occupied the countryside of the state of São Paulo since the 17th century.
Bragança Paulista is home to several musicians and composers such as Meno del Picchia, Tatá Aeroplano and Felipe Antunes, each synonymous with the popular music of youthful Brazil. There are also hardcore bands such as Leptospirose and the experimental electronic music group Tigre Dente de Sabre, as well as artists linked to hip hop and traditional country music, such as the Violeiros Orchestra and a municipal symphonic orchestra.
Serrinha Farm and Arte Serrinha
The Serrinha Farm is a place for transformation that promotes creativity across 120 hectares of land, a beautiful green area, a charming lodge and rooms for immersions and workshops.. It is a refuge in the countryside of Bragança Paulista, whose landscape is marked by the Jaguari-Jacareí dam and the Mantiqueira mountains.
The Arte Serrinha Festival, now in its 18th year, and the Instrumental Serrinha Festival, whose 6th edition will take place in early 2019, offer great opportunities for artists to encounter Brazilian musical experimentation and exchange ideas.
Keep up to date with all the latest news around these residencies via #MIRBrazil online.