UK-Russia Musicians in Residence
We have launched many music residencies over the years with our friends at PRS Foundation but this is a first on two counts – our first with PRS Foundation in Russia and the first residency with musicians moving in both directions.
We're delighted to announce that, as part of the UK-Russia Year of Music, electronic producer Vessel (Sebastian Gainsborough), sound artist Kathy Hinde and composer Steph Singer will travel from the UK to Russia; producer Aneliya Avtandilova, composer Igor Yakovenko and electronic producer Mikhail Pinyaev (Aeger Smoothie) will travel from Russia to the UK.
Each musician will spend four weeks in their new home, giving them a unique opportunity to work with different musicians, absorbing the local culture, developing their professional networks, exchanging ideas and reaching new audiences. Activity will also engage artists, teachers, students and the wider local communities, aiming to raise awareness of UK and Russian creativity and a sense of co-ownership of new work created during the residency.
The UK musicians' residencies in Russia have been developed in partnership with the RUSH initiative and organised in partnership with NCCA (National Centre for Contemporary Arts).
The Russian musicians' residencies in the UK will be hosted and supported by Metal (Liverpool), Cryptic (Glasgow) and Snape Maltings (Aldeburgh).
These residencies are at the heart of the huge UK-Russia Year of Music 2019 programme, whose aims are to showcase the richness and diversity of musical cultures of these two countries, across all genres and styles of music, and to create opportunities for collaboration between individuals and institutions.
Find out more about the musicians and their hosts below.
Residencies – UK musicians to Russia
Electronic producer Vessel (Sebastian Gainsborough) will travel to Nizhny Novgorod (13 January – 7 February 2020)
Sound artist Kathy Hinde will travel to Kaliningrad (13 January – 9 February 2020)
Composer Steph Singer will travel to Ekaterinburg (March 2020)
Vessel (Sebastian Gainsborough)
I couldn't be more humbled to have been offered this rare and beautiful opportunity by British Council and the PRS Foundation to explore the musical and cultural identities of Nizhny Novgorod. I am deeply curious to immerse myself in a region which has shaped, and been shaped by, the rich musical and cultural identities of the Slavic diaspora, as well as the many non-Slavic ethinic groups that have lived within the borders of Russia. I am truly excited to further explore how the history of these diverse and frequently migratory peoples relates to and intersects with that of Nizhny Novgorod, and Russia in general.
Acclaimed electronic producer and composer Sebastian Gainsborough started his career as a purveyor of left-field, bass driven electronica, using his unique sonic palate to create immersive, electronic compositions, exploring texture and tone, the organic and the man-made.
Punish, Honey (2014) signalled a distinct departure from everything Vessel had previously released, stepping aside from digital music tools in favour of analogue hardware and unique, hand-crafted instrumentation in order to develop a unique sonic palette. Lead single, 'Red Sex' picked up cult status – it was used in Park Chan Wook's The Handmaiden, was heard on Alexander McQueen's catwalks, as the soundtrack to a swathe of contemporary dance works and on basement dancefloors around the world.
Following Punish, Honey Gainsborough's focus shifted to a collaborative, exploratory approach, blurring the boundaries between live and synthesised sound. Gainsborough teamed up with Erased Tapes' Immix Ensemble for his first foray into the 'classical' world – this resulted in a new commission for the re-launch of Tate Britain Transition, released on Erased Tapes in 2016.
This sparked a critical mass of new ideas and partnerships that would change Gainsborough's music output forever. Gainsborough formed a close bond with Rakhi Singh, Immix's violinist who opened his eyes to a lifetime of new listening. They began to write their first collaborative work not long after meeting. 'In Fire', a response to Janáček's string quartet 'Intimate Letters' dropped in 2019, kicking off a rapid fire triptych alongside chamber opera 'Paradise Lost' and 'Passion', alongside acclaimed cellist, and fellow Musician in Residence, Lucy Railton. If 'Transition' was Gainsborough dipping his toe into the water of the instrumental world, this was him diving in head first.
All the while, alongside this exploration, collaboration and creative play, Gainsborough was simultaneously penning Queen of Golden Dogs, an album that would be his first true, cohesive amalgamation of his deep, nuanced electronic music and the new world of experimental and classical music that was unfolding before his eyes. Marrying 'orchestral string stabs with propulsive percussion for a sound that is equal parts Arnold Schoenberg and Oneohtrix Point Never.' Queen of Golden Dogs, was released (again by Tri Angle) in 2018.  It marks a stark departure from the producer's previous work, taking that next step on Gainsborough's creative journey, combining chamber-rave freak outs with vocal segues and neo-classical pieces.
Nizhny Novgorod
Vessl heads to Nizhny Novgorod for a residency, hosted by the Volga-Vyatka branch of the NCCA, focussed on Russian folk music. He'll have the opportunity to learn more about Russian culture, its musical traditions and musical language. Nizhny Novgorod is one of the most important regions in Russia for folk music with one of the largest archives of folklore and many exceptional folk ensembles, musicians and experts. Vessel's visit coincides with a time of year filled with traditional celebrations full of various winter ceremonies and rituals.
Established in 1997, NCCA is the only museum and exhibition venue in Nizhny Novgorod that focuses on contemporary art in the broad context of contemporary culture. Its work aims to develop the contemporary Russian art, integrate it into the international context, and to create a sustainable interest in contemporary art within the general public. Museum is located in the very city centre: on the territory of the Nizhny Novgorod Kremlin in the Arsenal, built in 1843, which is an architectural heritage monument.
Kathy Hinde
I am thrilled to have the opportunity to respond creatively to the unique location of Kaliningrad. Early Russian explorations in instrument invention that integrate audio, visual, and scientific experimentation, and the current lively sound art scene in Kaliningrad both resonate well with my practice. I am looking forward to gaining a deeper understanding of this experimental legacy whilst making the most of the time and opportunity to devise a new way to improvise with invented or adapted instruments, objects and field recordings. I wish to learn from, and contribute to, the Kaliningrad sound art scene by expanding my current practice through working with and alongside Russian sound artists during my residency.
Kathy Hinde's work grows from a partnership between nature and technology expressed through audio-visual installations and performances that combine sound, sculpture, image and light. Drawing on inspiration from behaviours and phenomena found in the natural world, she creates work that is generative; that evolves; that can be different each time it is experienced.
Hinde's work represents a cross between kinetic sound sculptures and newly invented musical instruments. Composed of broken instruments, hacked electronics and a blend of digital and analog systems, they can be played live in countless ways. Hinde creates a sensitive balance between the audio and the visual elements to create truly interdisciplinary works.
Hinde has shown work across Europe, China, Pakistan, Sri Lanka, USA, Canada, Colombia, Brazil, Mexico, Australia and New Zealand. Awards include an Honorary Mention at Prix Ars Electronica, runner up for PIARS Sonic Arts Award, twice longlisted for Aesthetica Art Prize, an ORAM Award, a British Composer Award, a Scottish Award for New Music and was selected for European SHAPE Platform for innovative music and audiovisual art in 2018. She became a Cryptic Artist in 2015 and is a member of the Bristol Experimental Expanded Film collective (BEEF).
Hinde has collaborated extensively, and partnerships include projects with Maja Ratkje (NO), Andreas Borregaard (DK), Myriam Boucher (CA), Sabine Vogel (DE) and Joanna MacGregor (UK).
Kaliningrad
Hinde heads to Kaliningrad for a residency devoted to electronic, electroacoustic music and sound art. The residency will give her an opportunity to dive into the Russian electronic, experimental and sound art scene, get know its key figures, experiment with sound, conduct research and collect field recordings, take part in sessions in the Russian synthesizers studio, meet and collaborate with Russian sound artists and give a performance within the Sound Around Festival. The residency will be hosted by the Baltic branch of the NCCA. This brunch was founded in 1997, as a museum, exhibition and research organization, whose activities aim to develop contemporary Russian art, integrate it into the international context, and create a sustainable interest in contemporary art among the general public. The archive of the Kaliningrad branch of the NCCA has the largest number of sound art exhibits among the Russian museums; the local media library contains the works of the most important Russian and foreign sound artists. One of NCCA's projects - the Sound Around Festival, held since 2011, is the only professional international annual event in Kaliningrad that focuses on sound art and experimental music.
Steph Singer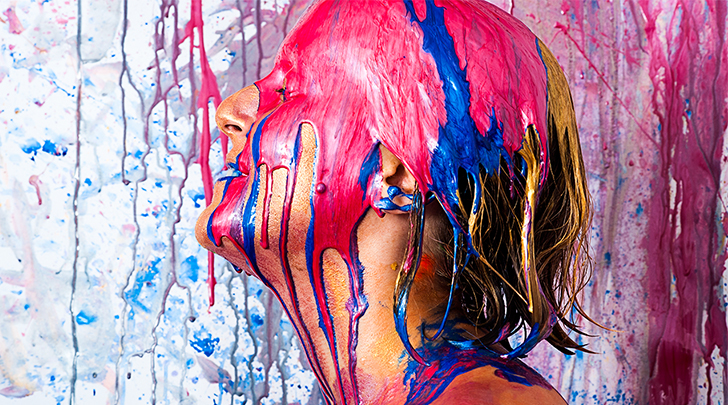 I am beyond excited ... to have a month devoted to learning, writing, exploration and experimentation is my idea of heaven. I am ready to embrace new ways of working, new partners and to dive deep into the city of Ekaterinburg searching out opportunities to be involved with polyphonic choirs, martial arts and the sensory fabric of the city. I can't wait to collaborate with people from the city, compose new music and develop new multi-sensory, immersive music ideas during my time there
Steph Singer is a director/composer creating immersive music and musical theatre. Her work is playful, intimate and whimsical and a large part of her focus is to create meaningful experiences that foster human connection, a sense of freedom and empathy.
In 2015 Singer created BitterSuite to transform the way audiences experience live music with concerts combining sound, taste, touch, smell and movement to create disarming and intimate experiences. The work most often involves blindfolding the audience and pairing them with a BitterSuite guide who leads them through a highly choreographed sensory experience. BitterSuite's work has featured at Royal Opera House, The Science Gallery, Midlands Art Centre, Brooklyn Academy of Music, Rich Mix, Roundhouse, Nesta, Bristol Arnolfini, TedX Hackney, Wilderness Festival and more. As a musical theatre composer, Singer is a member of the advanced BMI musical theatre workshop in New York. Together with her writing partner Laurel Haines she has received the Jerry Harrington Award for creativity, and their work has been selected for masterclasses with Disney's Alan Menken (Hercules), Glenn Slater (Little Mermaid) and Kristen Lopez (Frozen). She has created music for installations including 'Still' Dulwich Picture Gallery and an immersive ballet for With You Films and the New York City Ballet. She is currently developing a musical animation 'FLASH' and two original stage musicals which have had staged readings at The Tank (New York), MTN's Beam showcase at Theatre Stratford and The Other Palace.She is a passionate educator and facilitator for RCA, Brown University, CSM, Bristol University, Concordia University, Sense UK, Museum of London and more. She is the artistic director for the world's first sensory festival 'Open Senses', guest artistic director for a sensory festival co-created by 60 deafblind artists 'Sensibility Festival' and a creative associate for other companies including Punchdrunk, Heart n Soul and more.
Ekaterinburg
Singer heads to Ekaterinburg for her residency to dive into the Russian academic music scene, explore the Russian academic tradition, discover its key figures, meet representatives of the scene and collaborate with Russian musicians and composers. The residency will be hosted by The Ural branch of the NCCA, the most active and influential art institution in Urals. NCCA have appeared in Yekaterinburg in 1999 and became the first contemporary art institution in the city. Within 20 years NCCA Ekaterinburg have initiated and organised various projects and events that put Ekaterinburg on the map of international contemporary art scene - Ural Industrial Bienniale, international festival-laboratory ART-ZAVOD, Laboratory of the Young Artist, yearly Museum Night and others.
Residencies – Russian musicians to the UK
Producer and singer Aneliya Avtandilova will travel to Metal in Liverpool (14 October – 13 November 2019)
Composer Igor Yakovenko will travel to Snape Maltings in Aldeburgh and Suffolk coast (3 February – 29 February 2020)
Electronic producer Mikhail Pinyaev will travel to Cryptic in Glasgow and Argyll & Bute (24 February – 21 March 2020)
Aneliya Avtandilova
I am most grateful [and] determined to do my best. Really looking forward to diving into the project and finding out what sounds will come out of this me-Liverpool combo.
Aneliya Avtandilova (aka Gdeto) is a St.Petersburg State University and Bard College graduate and a former academic ghostwriter, who for the last 15 years has also been making music. Equally inspired by religious medieval art and Pinterest, her work explores the possibilities of rhythm and melody, themes of physicality, nature, pantheism and transcendent experiences. Her graduation composition for a plastic etude "Sparrow Phase" has been compared by her professors to the works of Stravinsky and Shostakovich, while her band Cheekbones (aka Chkbns) has performed at KEXP, SXSW, Canadian Music Week, Reeperbahn Festival and The Great Escape, besides touring around Asia and Europe.
Since 2012 Cheekbones have released three EPs – Eat Sleep Mom Dad, Private Fiction, This Time – and an LP, Autwik, songs from which got their spots in rotation of such radios as KEXP and NPR. In 2016 Aneliya received a grant from Goethe Institut to travel to Donaueschinger Musiktage festival as a young music professional. Her artistic pseudonym Gdeto (from the Russian word где-то meaning "somewhere") comes from 2017, when she solely released an EP "Pillow Book", named after Sei Shōnagon's work.
Aneliya also has two published books of fairy tales in Russian, while her English poetry was featured in Poetry Matters and Plum Tree Tavern. In 2019 she was a selected participant of The British Literature Today seminar, supervised by Lavinia Greenlaw, David Keenan, Jay Bernard and Glyn Maxwell.
Metal, Liverpool
Metal was founded in London in 2002 by Jude Kelly CBE, working with current Artistic Director and CEO, Colette Bailey since its inception. It has been active in Liverpool since 2004, in Southend-on-Sea since 2007 and in Peterborough since 2012. From these bases, Metal works to provide the catalyst that can transform the potential of people and places, exploring the impact of art and artists' practices on civic and civil society. Metal produces an exciting multidisciplinary programme of international and UK artists in residence and runs a wide range of events, exhibitions and participatory projects.
In Liverpool, Metal work out of Edge Hill Station, the world's oldest active passenger railway station. Metal completed a major renovation of the previously empty, historic buildings in 2009. The original 1836 Engine House, Boiler Room and Accumulator Tower now serve as a cultural and creative hub for artists, the neighbourhood and wider city region, carrying on the building's proud history of innovation, aspiration and technology.
Metal Liverpool's recent flagship projects have included the Turner Prize winning project Granby Workshop with artist collective Assemble, and the much celebrated presentation of Different Trains with Steve Reich, London Contemporary Orchestra and filmmaker/artist Bill Morrison.
Igor Yakovenko
It is an honour and a privilege to be invited to participate in this residency. Looking forward to make a significant work and get inspiration for my future projects.
Igor Yakovenko is a Moscow-based pianist and composer performing jazz as well as classical, avant-garde music. His manner points at a profound classical background, and, as a jazz pianist, he makes the spontaneous material sound like in a program of Johannes Brahms or Modest Mussorgsky.  
Yakovenko studied at the Department of Historical and Contemporary Performing Arts of the Moscow State Conservatory (class of professor Yury Martynov, specialisation - grand piano, harpsichord, hammerklavier) and obtained Associate of Arts and Sciences (A.A.S.) degree in Classical and Jazz music from State Classical Academy named after Maimonides (classes of professors Oleg Musorin and Igor Bril) 
Snape Maltings, Aldeburgh
Snape Maltings is one of the world's leading centres of music and a place of energy and inspiration for people ranging from concert audiences to musicians developing skills on courses and residencies, and from young people performing on a professional stage for the first time to artists and researchers exploring music's potential to improve lives. It has grown out of the Aldeburgh Festival, founded by Benjamin Britten in 1948 and now one of Europe's leading classical music events. In addition to presenting a world-class performance programme, Snape's creative campus supports a wide variety of musicians as creators, collaborators and performers through a year-round programme. Over the next 10 years Snape is  expanding this focus to become a national and international hub, bringing together all those involved in music's place in the world: musicians, researchers, clinicians, communities and audiences.
The residency would give to a selected musician a possibility to spend dedicated time in a quieter, more rural setting and develop ideas and new project. It will give space and time for experimentation and collaborate with other artists who are in residence at Snape Maltings. It also will give an access to The Red House, the home of composer Benjamin Britten and tenor Peter Pears, one of the UK's most important centres for music research. Within the residency period musicians can explore the archive and library holdings of manuscripts and other unique source materials kept in the House.
Mikhail Pinyaev (Aeger Smoothie)
I'm looking forward to seeing how the remoteness of the environment will affect my creativity, it's something I was eager to explore for a long time. I'm sure staying at this beautiful place will lead me to create something fresh and unique, as it is so different from my urban landscape at home. I'm looking forward to meeting artists from all over the world and sharing experiences and techniques. At Cove Park I'm planning on working on a few small projects, including environment-centric ambient compositions and producing a sample library based on natural sounds, which I can share later with ambient and experimental artists.
Aeger Smoothie is the creative alias of photographer and musician, Mikhail Pinyaev, from Nizhny Novgorod in the Russian Federation. It's also the name of an experimental audiovisual project, which he created, exploring the modern possibilities of mobile music production, working with various genres, such as: ambient, IDM, glitch and other techniques which he discovers whilst composing on the go with iOS devices.
Aeger Smoothie provides a way to make experimental electronic music more accessible to others and unite individual musicians to create a more cohesive regional music scene. With 10 releases in his discography, including two long-plays and various collaborations, Aeger Smoothie's pursuit of unique production combining audio, abstract and macro photos continues to create music which takes the listener on an explorative imaginary journey into modern life.
Cryptic, Glasgow
Cryptic is a Glasgow-based internationally-renowned producing art house, presenting today's most imaginative, innovative artists whilst also nurturing the creative talent of tomorrow. It create memorable experiences that engage and inspire the audiences, 'ravishing the senses' with multi-media performances that fuse music, sonic and visual art. Founded by Cathie Boyd in 1994, the company thrives on artistic innovation and creative risk-taking, which has subsequently created an environment where artists have been encouraged to push artistic boundaries. To date, Cryptic has presented 172 productions (including 42 world premieres), which have been seen in 29 countries. In 2019, Cryptic celebrates 25 years of 'ravishing the senses.'
The residency is aimed at artists who work with sound or experimental sound/visual artists and offers time, space and freedom. Artist will spend three weeks at Cove Park followed by one week in Glasgow. The emphasis of Cryptic's residency programme is on individual research. The residency is not geared towards a final presentation of work or collaboration but all artists-in-residence take part in a showing of the work-in-progress, studio visits and/or public discussions at the end of their residency. The selected artist will be one of around 9 artists in residence at Cove Park. Artists are both international and UK-based. All artists work in a similar medium and collaboration and peer learning is encouraged.